Welcome to homepage of the journal
Studia Botanica Hungarica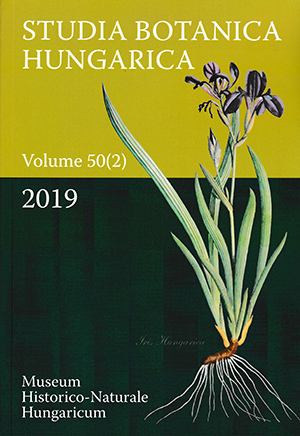 Published in English by the Hungarian Natural History Museum, Studia botanica hungarica (Studia bot. hung.) is a botanical journal that invites original submissions encompassing all areas of botany (fossil and extant plants) as well as mycology. Articles primarily discussing systematics and floristics, and focusing on the Carpathian Basin, the Balkan Peninsula, and the surrounding areas are welcome.
First issued in 1961 as Fragmenta Botanica, the journal was renamed in 1973 (beginning with Vol. 8). Studia botanica hungarica is currently published twice a year; since it is freely accessible online, rapid publication of papers can be assured.
Submission of manuscripts is continuous, preferably in (British) English language (with illustrations of printable quality). Manuscripts of botanists of the HNHM or botanists working on the collections of HNHM are privileged. Only original papers, following the instructions to authors, are accepted.
On this homepage you can find information on the journal and the papers published in it. Browsing and searching by authors, title, year of publication, subject, and by expressions occurring in the abstract and key words (the papers have abstract from 1973 and key words from 2001) are possible. You can also download the full text papers in PDF format.
Publisher: Hungarian Natural History Museum, Baross u. 13, H-1088 Budapest, Hungary
Contact: Pf. 137, H-1431 Budapest, Hungary. E-mail: studia@nhmus.hu, tel.: +36 (1) 210-1330, fax: +36 1 3141 483, web: http://www.nhmus.hu/
General Director: Zoltán Korsós
Editor: Zoltán Barina
Contact: barina.zoltan@nhmus.hu, tel.: +36 (1) 210-1330 / 102, fax: +36 1 3141 483
Department of Botany, Hungarian Natural History Museum, Könyves Kálmán krt. 40, H-1088 Budapest
Online submission of manuscripts
HU-ISSN 0301-7001